Welcome to the BAD!!! Wiki!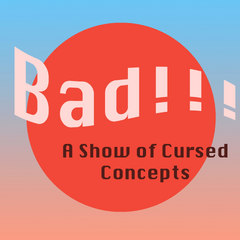 ---
"Bad!!! A Show of Cursed Concepts" is a casual comedy podcast that features the weird, cursed and bad content the internet has to offer. The hosts Anna and Gabe curate this awful collection of things and share it with us weekly. Listeners are welcome to submit their own content to the duo at their gmail (badcursedconceptspodcast@gmail.com) or to their Twitter. You can listen to the show on Anchor, Apple Podcast, Google Podcast, Spotify, and many others!
"Bad!!! A Show of Cursed Concepts" is also a part of the Common Unity Media Network. More information can be found on their website, and their patreon can be found here.

Quick Links
[
]
Most Recent Episode
[
]
Episode 88 - February: The Month of October
How YOU can help
[
]
We're a collaborative community website about "Bad!!! A Show of Cursed Concepts" that anyone, including you, can build and expand. Wikis like this one depend on readers getting involved and adding content. Click the "ADD NEW PAGE" or "EDIT" button at the top of any page to get started!
Feel free to make new pages based on segments, the hosts, or anything related to the podcast
Episodes in 'Missing Media' need the text/video/audio tracked down if possible (excluding podcast original audio)
Episodes in 'Missing Segments' need their proper segments linked to them

Admin Info: This wiki was created by Doctorgirl66 on October 8, 2020. Anyone can contribute to the page, all help is welcome and very much appreciated! Questions? Contact me on Twitter here.
Need help building out this community?
You can also be part of the larger Fandom family of communities. Visit Fandom's Community Central!